Study protocol - Efficacy of an Educational Action in the Sustained Improvement of Inhalation Technique
Palavras-chave:
COPD, Inhalation Technique, Educational Action
Resumo
Study methodology: This is an institutional, prospective and observational study on COPD out-patients. An inadequate inhaler technique remains a major cause of insufficient disease management. Face-to-face demonstration of inhalation devices are effective methods of teaching the correct inhalation technique. However, if some improvement is sustained over time, is not yet determined. This is the primary aim of this study. Secondary objective is to evaluate the factors that can predict a sustained improvement of inhalation technique. In a previous visit, COPD out-patients diagnosed according to GOLD criteria, were recruited consecutively. Participants were asked to demonstrate the use of their prescribed ID, just as they does it at home. For each inhaler device we defined a checklist of steps for a  correct inhalation technique, and critical errors, which are likely to make therapy useless. After this evaluation, demonstrations and training with placebo inhalers were given to all participants, until a correct use is achieved. Patients will be invited for a second medical visit, 10 to 12 months after the first visit, and they will be asked again to demonstrate the use of their inhalers. It will be used the same check-list of the first visit, and the reevaluation will be done by the same healthcare professional. Impact of the research: To the best of our knowledge this will be the first study carried out in Portuguese population of COPD patients, concerning the sustained improvement of the inhalation technique after a single educational intervention. The characteristics of both the patients and inhalation devices related to a sustained maintenance of a correct inhalation technique can be useful for planning education interventions on COPD patients. This can be the added value of this study.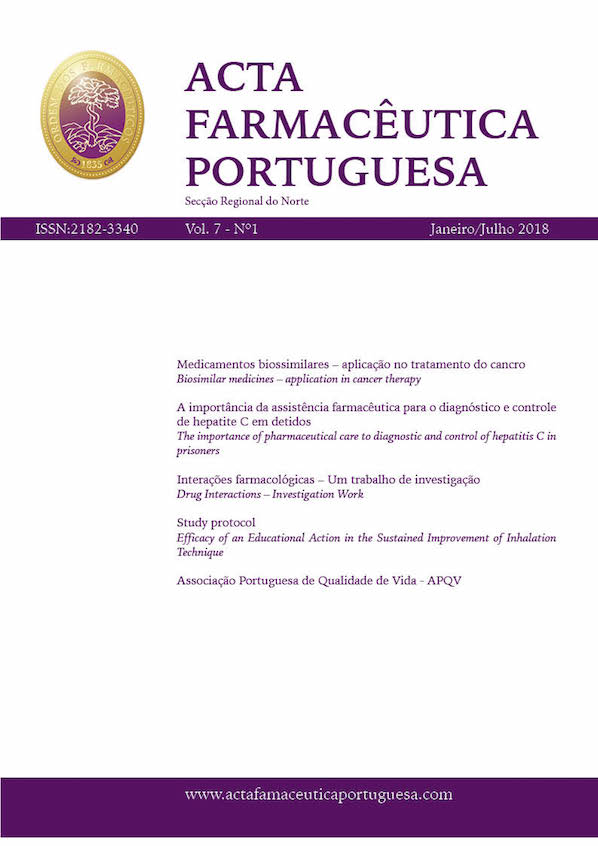 Secção
Comunicações Curtas